Connect to the world around you with this collection of over 2,000 books and audiobooks in over 40 different languages.
Amharic
Arabic
Bengali
Carrier (Dakelh)
Cherokee
Chinese
Choctaw
Cree (American Native)
Czech
Dakota
Dogrib
Farsi (Persian)
French
German
Greek
Gujarati
Haida
Haitian Creole (Kreyòl)
Hawaiian
Hebrew
Hindi
Hmong
Indonesian
Inuktitut (Inuit dialect)
Irish
Italian
Japanese
Korean
Lakota
Latin
Marathi
Michif (Creole)
Mi`kmaw
Navajo (Dine)
Nepali
Ojibwe
Polish
Portuguese
Punjabi
Pushto
Russian
Somali
Spanish
Swahili
Swedish
Tagalog
Tamil
Thai
Tlingit
Tsimshian
Turkish
Twi
Ukrainian
Urdu
Vietnamese
World (multiple languages)
Yiddish
Yoruba
This collection of books about Indian culture includes topics like Indian history, polity, economy, culture, architecture, foreign policy, and classics.
At the ribbon cutting ceremony held on February 21, 2020, the Consul General of India - Sandeep Chakravorty - shared about his interest in strengthening relationships and exploring opportunities for collaboration between the United States and India through access to information and literature. His hope is that this collection helps create "positive vibrations" and provides a welcoming space for Indians visiting or living in the United States.
The Westerville Public Library is the second public library to provide access to an India Corner collection. "These books are a tangible reminder of the library's mission to create a bridge to opportunity through open access to information, inspiration, and understanding," said Erin Francoeur, Executive Director of the Westerville Public Library.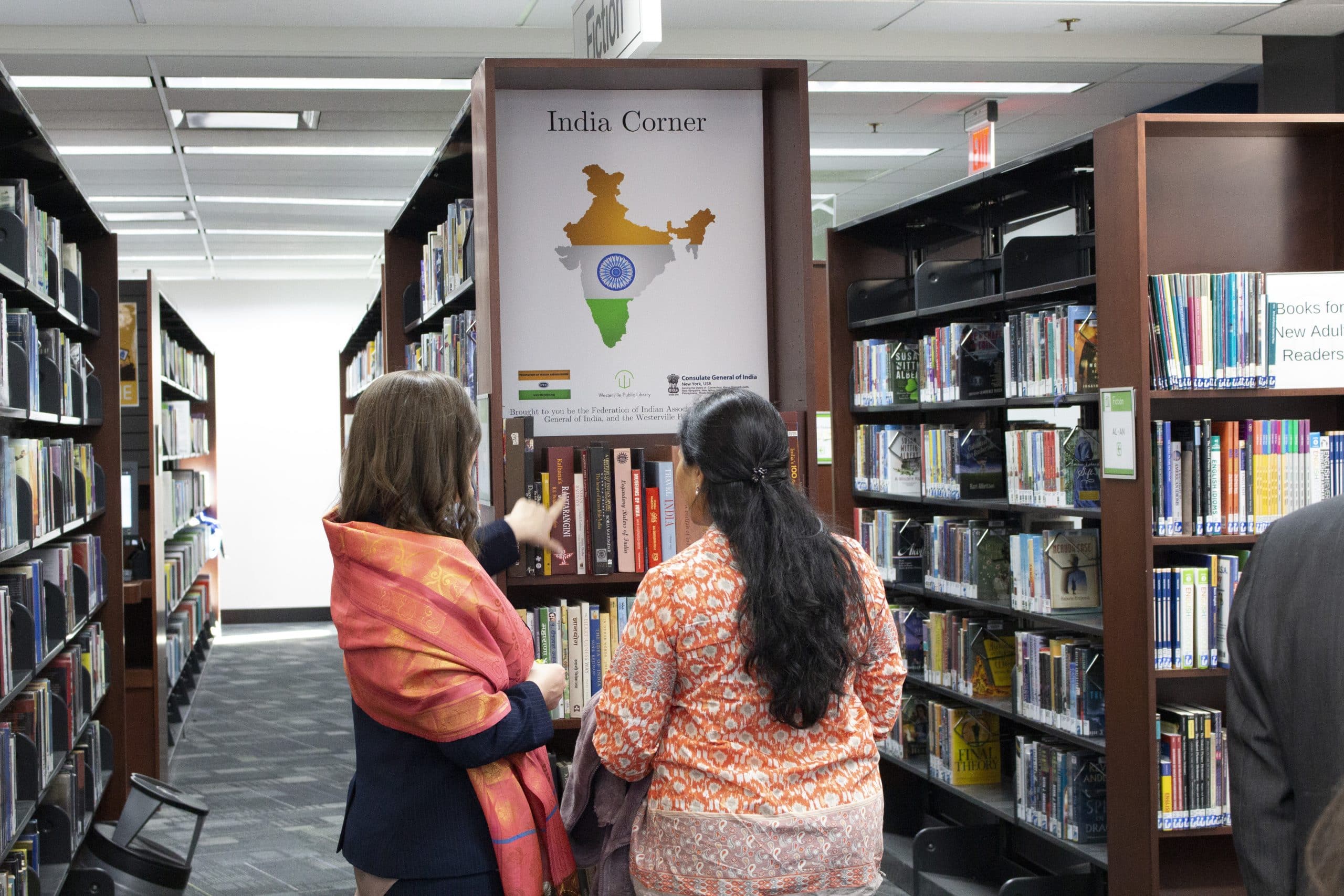 The goal of this collection is to inspire conversations about Indian culture and encourage a sense of shared humanity. Donated by the Consulate General of India in partnership with the Federation of Indian Associations in February 2020.
About the Gujarati Collection
Did you know that there is an active and vibrant population of over 800 families in the Central Ohio area who speak Gujarati as their native language? Donated from the personal collection of Ruma Shelat, nearly 100 books have been added to the world languages collection featuring fictional and classical works in the Gujarati language.
With a tradition of informally passing books among members of the Gujarati-speaking community, this addition to the library's world languages collection will help increase exposure to the Gujarati language and expand access to Central Ohioans interested in learning more about the culture, customs and traditions of Gujarat.
Originating from the Indian state of Gujarat, there are over 50 million speakers of the Gujarat language in India (as of 2011). In 2008, Columbus became the first sister city for Ahmedabad in the Indian state of Gujarat through the Greater Columbus Sister Cities Program, opens a new window. For more information, visit Haalo Re Gujarat, opens a new window.