The Anti-Saloon League Yearbook was first published in 1908 with Ernest Cherrington as its editor. Its annual publication as a hard bound book indexed with over 200 pages tracked the temperance movement's progress year to year. It contained U.S. and individual state maps which followed the dry force's march across the country.
The yearbooks continued to be published during the Prohibition years.
Wet & Dry Maps of the United States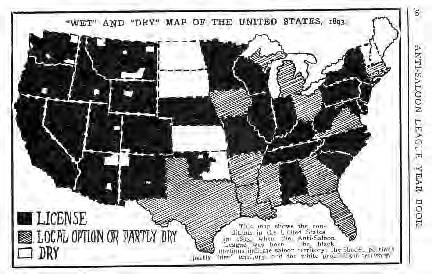 Map of the United States indicating states that are dry, local option or license. Printed in the 1910 Anti-Saloon League Year Book. 
Monday-Saturday: 9am-6pm
Closed on Saturday: 1-2pm
Closed on Sunday