Westerville residents were very excited when an article appeared in the local paper in 1871 announcing that the railroad was coming to town. They would be able to catch a train at the station and travel to other communities quickly and avoid muddy and bumpy roads. The day the first train rolled into town from Columbus, September 1, 1873, school was dismissed, businesses closed, and the entire community gathered along the tracks to watch this new form of transportation arrive.
The railroad built two stations in the Westerville area – one at Blendon Four Corners (the intersection of Westerville Road and Route161) and one in Westerville on E. College Avenue. With the arrival of the railroad a building boom hit Westerville. Residents built houses in the community near the train tracks so they could take the train to work in other towns. Businesses built factories along the tracks to make it easier to transport the things they manufactured to other communities and to receive the parts they needed to make the goods they were going to sell. The mail began to arrive by train rather than stagecoach.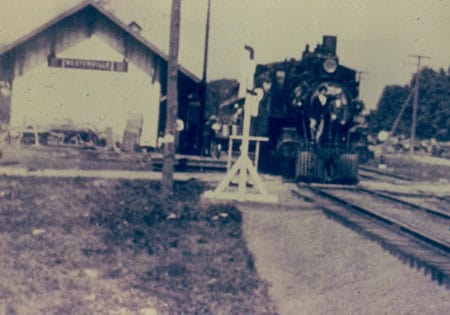 By 1893, ten passenger trains a day came through Westerville – five going south and five going north. In the 1920s excursion trains to Cleveland operated on Sundays and on holidays with a fare of $2.75 for a round trip. Railroad travel in the United States peaked during World War II in the 1940s.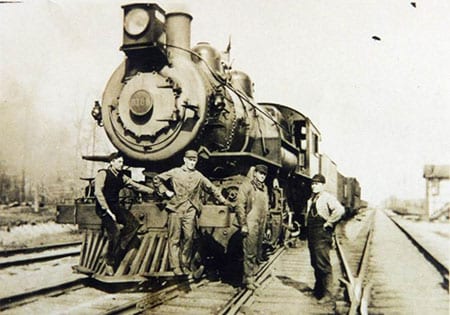 Travel by railroad declined because of the arrival of the trolley and the number of people who purchased cars in the early 1900s. The last passenger train came through Westerville in December, 1950. In March 1982, the railroad abandoned the entire line through Westerville and the era of the railroad came to an end for the community.
The railroad tracks were turned into bike and walking paths. Today they form an important part of the recreational life of the community.