The Trolley Rolls Down State Street
In the fall of 1891, excited passengers waited for the train at the railroad station. They were taking their families to the Ohio State Fair. They saw the train in the distance and grabbed their children's hands preparing to board. But the train did not stop or even slow down! It rolled past the Westerville station with its cars already filled with passengers from farther north going to the fair. One of the disappointed Westerville passengers was Gerry Meeker who promised his neighbors that he would try to bring a new kind of transportation to town – the trolley.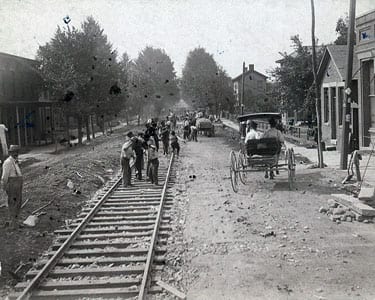 In the summer of 1895, the first trolley car came down State Street in Westerville with a brass band on board and Gerry Meeker steering the car. The tracks ran up the center of State Street to Old County Line Road at the trolley barn where the tracks ended. The trolley took one hour to reach downtown Columbus. The trolley cars traveled 15 miles per hour and often had to stop for herds of cattle and winter snow.
Some people called the trolley cars "pneumonia cars" because in the winter they were cold and in the summer filled with dust from the roads. Residents complained about the time it took to make the trip and the condition of the trolley cars. In 1910, the trolley company improved the cars and built double tracks which shortened the trip to fifty minutes.
One of the most popular places to travel by trolley was Minerva Park. Opened in the spring of 1895 between Columbus and Westerville, the park had 150 acres of wooded land and a beautiful lake. Visitors could enjoy roller coaster rides, animals in cages, floating in swan boats on the lake, and plays, orchestras and other entertainment performed in the large auditorium. The park was open for 7 years attracting visitors from the surrounding area who arrived by trolley.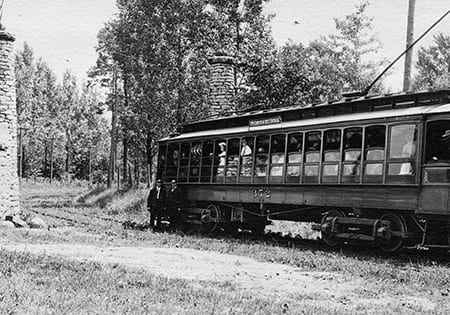 After the arrival of the automobile to Westerville residents began to drive themselves rather than depend on the trolley for transportation. In 1929, the trolley ceased running and the trolley tracks were removed.