Connecting You to the World
Enrich your life with library items delivered to your home for free with a smile. Available for seniors, homebound, temporarily disabled and caregivers.
Get a fresh supply of library items monthly.
Receive & return items at your door.
Chat with a library staff member during their visit.
Request your favorite titles or ask for suggestions.
Choose one of the following options:
Contact the library anytime at 614-259-5034 or outreach@westervillelibrary.org.
Talk to the activities director at your facility.
Speak to a library staff member during one of our monthly visits to your facility. (Contact your facility for upcoming dates and times of library visits.)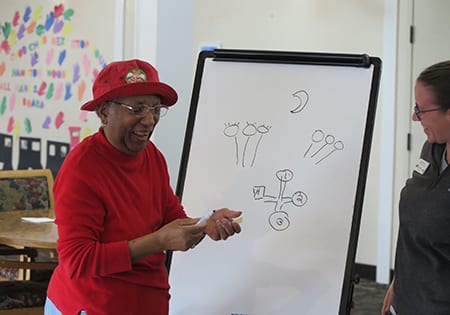 Programs & Services for Senior Facilities
Are you an activities director at a local senior facility? You're busy. We can help. Host fun and engaging activities that expose your residents to new technologies and ideas with the help of the library. Available to senior facilities within the Westerville City School District.
Am I eligible for home delivery service?
If you are a resident of the Westerville City School District and one of the following statements is true, you are eligible for this service.
I am unable to visit the library due to physical or mental disability.
I live in a nursing home, assisted living facility or senior apartment (regardless of health or mobility).
I am a full-time caregiver.
I am temporarily incapacitated by illness or injury.
How do I place an order?
Tell us exactly what you want or ask for staff suggestions based on your likes and preferences. Place orders over the phone, via email or online.
What can I request?
Audiobooks (CD)
Books (regular or large print)
Magazines
Movies (DVD or Blu-ray)
Music (CDs)
...and more!
How long can I keep items?
Items can be kept until your next delivery day. You may be eligible to renew items up to 4 times.
Sep 19th | 12:00am - Nov 6th | 12:00am

---

---

Sep 27th | 1:00pm - 2:00pm

---
Whether you're a new parent, a student, a young professional, a teacher, a homeschooler or a senior citizen, there's something here for you. And it's all free.